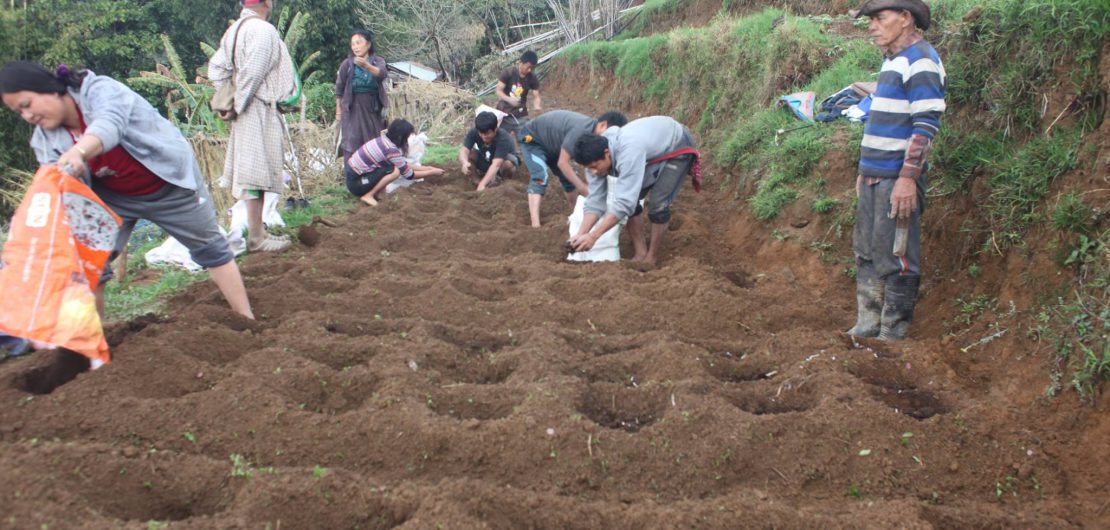 Organic farming strengthens all four pillars of Bhutan's holistic Gross National Happiness development policy:
It enriches and keeps our soils healthy and fertile rather than degrading and depleting them through use of synthetic chemicals, and it protects water sources and wildlife from chemical pollution and fertilizer run-off.
It creates new economic opportunities for farmers and rural communities as the market for organic produce rapidly expands, and it reduces the cost of expensive foreign farm inputs, chemicals and imported patented seeds.
It empowers farmers by reducing dependence, creating local seed sovereignty, and increasing reliance on local wisdom, traditional farming methods, and freely available local materials like manure, biomass, and leaf compost that fertilize and enrich the soil.
It strengthens local culture by creating good economic opportunities for our youth in rural areas, and thereby keeping our rural communities ¾ with their networks of social supports, vibrant extended families, and mutual dependence ¾ strong and vital.
Samdrup Jongkhar Initiative intends Samdrup Jongkhar to become Bhutan's first large fully organic region. To this end, SJI has:
Trained over 1,000 farmers and local agriculture officers in the best organic methods, including composting, bio-pest control, seed saving and storage, soiland nutrient conservation through terracing, natural vegetative strips, hedge grow and stone bund. In fact, the district is now generally pesticide free.
Sent 13 government agriculture extension officers, the District Agriculture Officer, and lead farmers for intensive training at the Navdanya organic training farm in Dehradun.
 Established four farmer vegetable groups in Dewathang Gewog, both to facilitate cooperative marketing and to empower farmers and strengthen local governance.
Introduced organic System of Rice Intensification cultivation in Dewathang, Pemathang, Phuntshothang, and Langchenphu Gewogs.
 Provided support for local buying through the weekly organic produce market farmers' groups, and awareness campaigns.
Worked to preserve local knowledge and re-introduce buckwheat, amaranth, different millet varieties and other lost grains that used to be abundant here.
Trained 70 "lead farmers" in all 11 gewogs in best organic agriculture practices to act as models and trainers of other farmers, and to spearhead farmer-to-farmer learning exchanges.
Developed "knowledge products" that are now widely used for training purposes, including
-tutorials in organic cow feed, pit compost, and cover cropping;
-four organic farming case studies;
-six large poster demonstrations on livestock husbandry, soil and water conservation, post harvest principles for cereals, integrated pest management, integrated nutrient management, and agro-biodiversity conservation.